The term 'dyspraxic' originates from the latin 'dus' 'praxis' meaning difficulty with action. It is used to describe the sensory processing difficulty children and adults have when they struggle to plan and organise their movements. There are three parts to praxis; we discuss these further in our post Dyspraxia Myths Explained. If you have not read this post we suggest you read it first as it provides a background on dyspraxia. In this post we will discuss how therapists might assess for dyspraxia and also share some ideas on how to help children who are dyspraxic.
What might it look like if an individual is dyspraxic?
Some common signs of dyspraxia include:
Difficulty learning new motor tasks

Prefers fantasy games or talking to actually doing things (so has good ideation but can't figure out how to follow through with their idea)

Difficulty learning exercise steps or routines

Difficulty with motor activities that require more than one step

Difficulty with drawing, colouring or copying

Has trouble playing with fine motor activities (e.g. blocks, beads)

Difficulty following directions that require two or three steps

Poor skills in ball activities and other sports

Frustration when unable to complete tasks due to poor motor skills
Dyspraxia & Me
This video describes dyspraxia from a personal perspective.
What are the core features of dyspraxia?
As we described in our post Dyspraxia – Myths Explained, individuals with dyspraxia will experience difficulties with more than just their motor skills.  They will also have difficulties with planning and organisation.  This sometimes includes thinking of ideas for play as well.
This means that dyspraxia is more than just a movement disorder.  Poor coordination, reduced balance and timing, poor handwriting and fine motor are the more obvious signs.  However, individuals also experience challenges with memory, focus, planning and completing tasks.  This leads to challenges with time keeping as well.
What about strengths?
The strengths of individuals with dyspraxia include
Empathy
Resilience
Humour
Creativity
How do occupational therapists assess whether a child is has dyspraxia?
The 'gold standard' to assess if a child is dyspraxic is to use an assessment tool called the Sensory Integration and Praxis Test (SIPT). This tool was developed by Jean Ayres in the 1980s as she revised earlier versions of the tests. It is designed for children aged four to eight and can only be used by trained therapists. Therapists that do not use the SIPT will use other motor skill assessment tools to provide them with relevant information. They may also use parent questionnaires, such as the Sensory Processing Measure. Due to the age of the SIPT, there is a new tool being developed to assess praxis called the EASI. It will hopefully be available in 2020.
When they are not SIPT trained, therapists will use other motor skill assessments like the Movement ABC or the Bruininks Test of Motor Skills.  These assessments also provide information on motor skills.  They will also use parents questionnaires and informal observation.
When assessing a child for dyspraxia, what else will the occupational therapist be checking for?
They will be looking to see if the child has difficult coming up with ideas for play, or craft, or construction. For example, can they think of things to build when playing with Lego? Can they come up with an idea for a picture when drawing? Or can they think of a game to play with their toys?
The occupational therapist (OT) may look for issues with tactile discrimination.  Tactile discrimination links to the child or adult's ability to interpret touch sensory inputs. We discuss it further here.
They will check if the child can plan and organise their ideas. Children with dyspraxia typically can't figure out what to do. They may have an idea to create a cubby house, but not be able to figure out how to do this with the furniture and materials available. Their idea might be to draw a car, but they won't be able to think about how to do this. They will not automatically think that the wheels could be made by drawing circles. Once they draw a car, they will likely still need help to draw a bus as they won't necessarily generalise the plan to a new drawing. If given materials and an idea, can they create something? If you ask them to tidy up a space, can they figure out where to put things without very specific instructions?
The OT will ask parents or teachers if the child finds learning new skills difficult. One of the biggest challenges children and adults with dyspraxia have is learning new skills. This is because they find ideas and planning difficult. New skills require a lot of planning. Once you have done the activity you have an idea on how to do it and then know how to do it again next time.
They will also ask about organisation of materials and time management.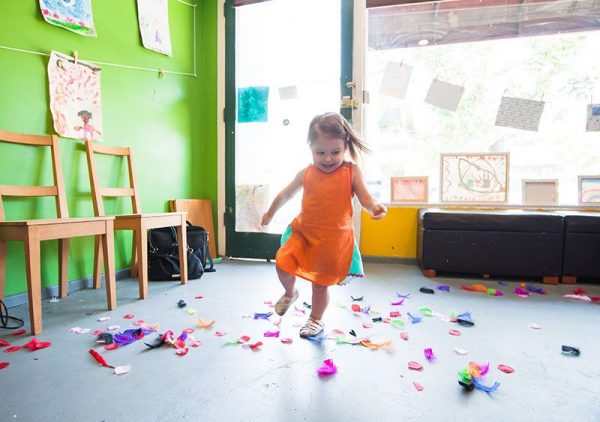 How can I help my child if they are dyspraxic?
The first tip I can give you is – be patient!
Secondly, make sure, where possible, you give physical demonstrations of what you're doing, rather than just saying what you want done. When children and adults have dyspraxia, often they can't figure out how to do things, so, showing them is a big help.
Thirdly, allow more time when learning new motor skills. Children and adults with dyspraxia find learning new motor skills really challenging. If you allow more time, it takes the pressure off both you and them.
Next, it is important to understand that children with dyspraxia often can't generalise skills. This can be very frustrating as it may look like they are being 'difficult,' or 'challenging' when they aren't starting activities or just don't seem to get it.  But actually, they may just not be able to figure out what to do.  As I said earlier on our Dyspraxia Myths Explained page, even if a child can draw a car, they might not be able to figure out how to draw a bus as it's different.  For them it is like starting completely from scratch.
I previously worked with a teenager who could not figure out how to turn on the clinic kettle because the button was in a different position and a different shape to his kettle at home. For him, the different kettle was like a completely new piece of equipment.  He genuinely could not figure out how to turn the kettle on without me showing him.  So, even a tiny change to an activity might put them back to the beginning of their learning.
A final piece of advice for helping children with dyspraxia
The final piece of advice I can give is to teach them to ask for help.  More specifically to ask 'Can you show me?'. Usually, children and adults with dyspraxia don't actually know how to figure out what to do. So, just having the adult repeat back the instruction will typically not help them know what to do. They need to see or experience the activity in order to learn.  If they can actively get the adults around them to show them it will help them engage and learn.
If you still want to learn more
GriffinOT explores dyspraxia further in our online sensory processing disorder courses.  If you're looking for specific tips to help fine motor skills or pencil grasp then our fine motor skill development programmes may also be relevant.  We outline more of the signs of dyspraxia in our checklists at the bottom of our Sensory Issues Signs and Symptoms page.  You can view them here.
Other articles you might be interested in reading
Page References
Miller, L.J. (2014) Sensational Kids Hope and Help for Children with SPD – Revised: Chapter 1.
Dr Amanda Kirby, Neurodiversity Strengths 2019, Published on LinkedIn
Photo Credits
Girl with feathers – Photo by Mike Fox on Unsplash
Why you should learn with GriffinOT
Join Our Community
Join our mailing list to stay up to date with our latest news, articles and training.  You will get immediate access to our free introduction to sensory processing course and be the first to hear of any promotions.  You can customise your choices and we will never send you anything you don't ask for.