How do I login to the sensory courses?
On our website menu at the top on the right-hand side, there is a direct link to the courses.  It is called 'course login.'  Click on this link to go directly to our courses.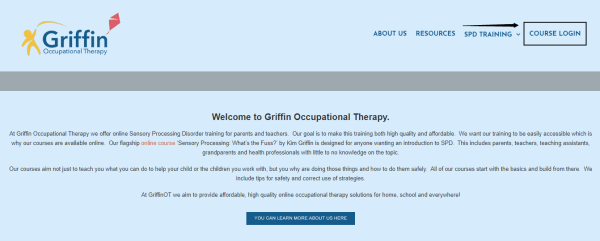 This will take you to an external site (Teachable) and our courses.  If you are already logged on, you will go directly to the courses.  If you are not logged in, you will need to click on the Login button on the top right-hand side.  You will need the email address you registered with and the password you created.  If you have forgotten your password, please use the forgotten password link on the Login page, we are sorry but we don't have access to your passwords.  If you have not already enrolled in a course you can do this by choosing the Sign Up button.
I can't remember my password for the course
Firstly you will need to go to the course log in page. Underneath the login box there is a 'forgot password?' link.  Please click on this and follow the prompts.  We are sorry we don't have access to your passwords for security reasons so you will need to reset it using this link.
How do I contact GriffinOT?
You can contact us here via the contact page.
How long do I have access to the courses
From December 2018 there is a minimum 6 months access to each course.  Sometimes we run promotions extending the access time.  If you have signed up at the time of a promotion then you will have access for the length of time that was specified in the promotion.
Stay Up to Date
Join our mailing list to stay up to date with our latest news and products.  We send a monthly newsletter with our updates.  From time to time it also includes promotions on our courses and products.  You can customise your choices when you sign up and GriffinOT will never send you any mail you don't sign up for.