Sensory Processing Disorder Training & Motor Skills Programmes
Griffin Occupational Therapy (GriffinOT) provides affordable online children's therapy solutions for schools and families.  Our packages are designed to help teachers and parents understand and support their children's sensory processing and/or motor skill challenges.  This includes, but is not limited to, children of all ages who may have sensory issues, motor skill or developmental delays, autism, or ADHD.  Whilst we wholeheartedly believe that direct children's occupational therapy (OT) intervention is best practice, we are aware that in many cases there is limited or no access to occupational therapists.  GriffinOT online training and programmes can be used alongside direct OT provision or as standalone training.
At GriffinOT we aim to provide affordable, high quality online occupational therapy solutions for home, school and everywhere!
Introduction to Sensory Processing Disorder – Free Course
Are you a parent or teacher? Want to learn more about your seven senses?  Yes, you read that correctly, seven senses!  Or do you want to learn more about Sensory Processing Disorder?  In this one hour course, GriffinOT's founder, Kim Griffin, will teach you about the seven senses.  This includes the ones you may not be as familiar with, such as the vestibular and proprioceptive senses.  She will also give a brief introduction to the three parts of Sensory Processing Disorder.  This includes sensory modulation and dyspraxia.  Not sure what any of these terms mean? Then start your sensory learning journey today, by joining our free course.
Helping children with their pencil grasp.
Supporting Pencil Grasp Development is the ultimate resource for the early years classroom.  The programme is available as a book or online.  It includes activities and worksheets to help children to develop a mature pencil grasp.  Click on the link to view more details and even listen to our song.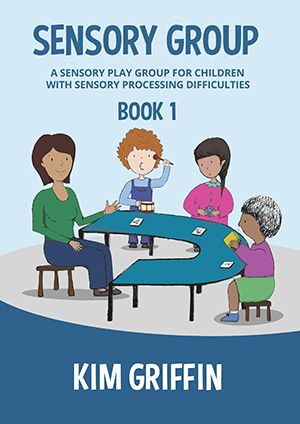 Empowering children to explore their senses.
Sensory Group is step by step a 12-24 week programme designed for children who have difficulties engaging with sensory-based play.  Sensory Group Book 1 targets sensory sensitivity or sensory avoidance, joint attention and turn taking. The group is suitable for children with autism or developmental delays who need extra support to engage in messy play and adult led teaching.  It is designed for use in an early year's school setting, but could also be used in a therapy setting or at home if additional children were available to help support the group.
Stay Up to Date
Join our mailing list to stay up to date with our latest news and products.  We send a monthly newsletter which includes our recent posts.  It will also include updates on our courses and products.  You can customise your choices when you sign up with GriffinOT.  This means we will never send you any mail you don't sign up for.